Griffon Buyer Register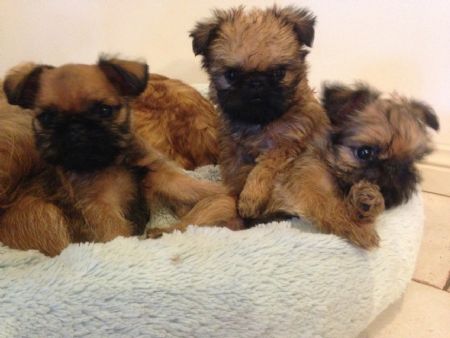 Griffon Buyer Register
The Country Griffon Bruxellois Club of NSW has established a Griffon Buyer Register to assist interested people purchase a Griffon from a reputable and ethical breeder.
Griffons are not easy to breed and are therefore very hard to buy. The register is designed to help people who would like to have a Griffon as a member of their family.
Because The Country Griffon Club has over 100 members we have a very good idea of the litters that are being bred and will use this knowledge to co ordinate the finding of suitable homes
This register is open to members of the club who are breeders and to interested, prospective Griffon owners.
Rules
The Register will be managed by Sharyn Wood (the Registrar)

Breeders who wish to be included on the Register must be members of the club

Prospective Griffon owners are required to become club members

The Register will assist in finding homes for both puppies and older Griffons

The Register will assist in finding homes for Griffons hwo have been rescued or returned to breeder.

The Register will include details of Griffons available and a list of interested Griffon buyers.

It is the reponsibility of the prospective Griffon buyer to keep in touch with the registrars so that they know of your ongoing interest.

Breeders will need to inform the registrars of any pups or older Griffons, they have available with details including age, gender, coat and colour.

Any pups available must meet the club's

Breeders

Code of Ethics

The Registrars will pass the breeders details on to the prospective buyer. The registrars will not vet the buyers in any way to ensure the home is suitable. It is the breeders responsibility to interview the prospective buyer to ensure that they are a suitable home.

If a breeder decides that a potential buyer is unsuitable then they will inform the registrars with their reasons. These reasons will be confidential and will be used to assist in determining a suitable home for the Griffon.

The two forms below are available for interested people. There is one form for prospective Griffon owners and one for breeders or sellers of Griffons. You may complete the form and email it to the Registrars
​Please note- In order to be considered for the Griffon Buyer Register you must also be a club member and agree to abide by the clubs Code of conduct for members. See the Code of Conduct below.
Below is the membership form. membership is only $10 and with that you get a quarterly club magazine called The Phoenix and ongoing support and advice for you and your Griffon.

We also have griffon picnics, Fun days, a Griffon Christmas Party and other events for members. Please ensure that you complete the membership form and send it along with your Griffon Buyer form
http://oz.dogs.net.au/griffons/uploads/documents/Breeder-or-seller-document.docx
http://oz.dogs.net.au/griffons/uploads/documents/Griffon_buyer_questionnaire---template.docx
https://oz.dogs.net.au/griffons/uploads/documents/membership-form-2019-2020.pdf
http://oz.dogs.net.au/griffons/uploads/documents/Appendix-3-Code-of-Conduct.docx