2021 Championship Shows
At the beginning of 2021, we were fortunate to have a small window of freedom from March to June, before the COVID lockdowns forced more cancellations. This brief window allowed us to hold our two championship shows that had been cancelled in 2020.
The shows had the usual high standard of trophies and we received generous sponsorship from Black Hawk. There was the usual friendly atmosphere, with lots of visitors who came along to watch their first dog show.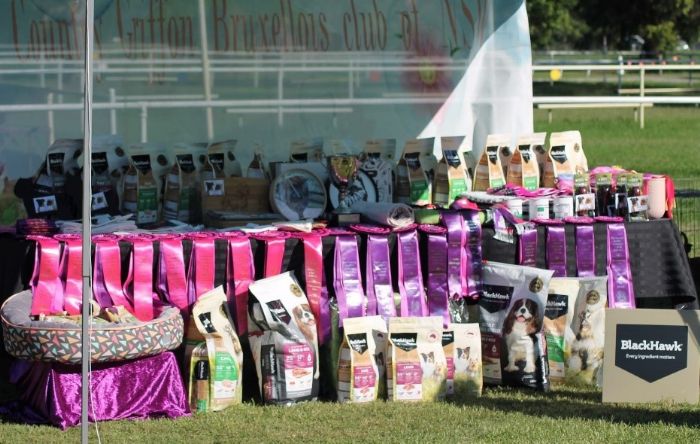 The day commenced at per tradition with a parade of Golden Oldies to celebrate our older Griffons and to showcase their health and the love they receive from the owners. Many were show champions who enjoyed their time in the ring again. It was free entry and open to Griffons 10 years or older. All Griffons got a sash, a treat and an easter egg​
The fabulous trophy table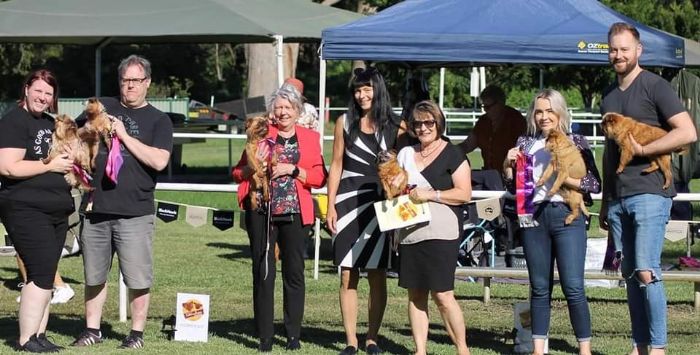 The Golden Oldies- Henry 14.5 years, Mavis, 14.5 years, Dumbledore, 10.5 years, Dolly, 12 years, Ludwig, 11 years and Gertie 10.5 years
The Silver Show
The Silver show was judged by Anu Lummevaara (Berizza Italia Greyhounds) and she found her Best in Show in the Bitch Challenge winner, Ch Tzani Giggle Mc Dimples, owned and handled by Kerry and Emily Bell. She was also Best Intermediate in show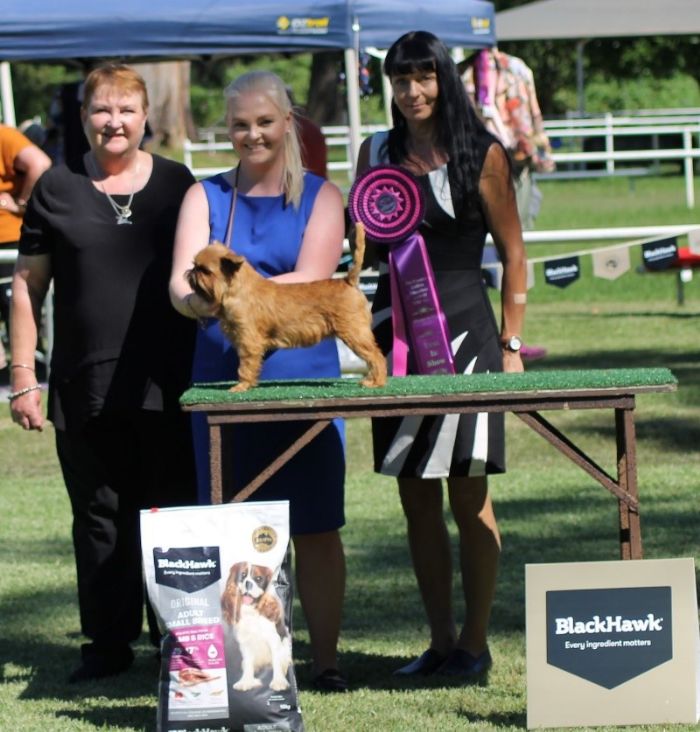 Ch Tzani Giggle Mc Dimples, with owners, Kerry and Emily Bell (Emily handling) with judge Anu Luumevaara
Reserve in show was the Dog Challenge winner, Supreme Ch Cricklewood Night of Magic in Paris. Bred im NZ by David Fifield and Sandie Meads, he is owned by Ashleigh Barber and Michelle Parker Brien and handled by Ashleigh. At 9 years of age, he also won the Veteran class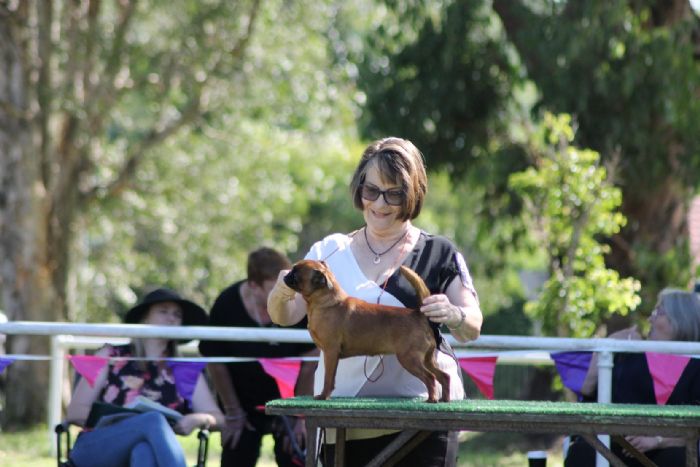 Reserve Challenge Bitch was Ch Balliol Tilly Tonks of Raweke, owned, bred and handled by Michelle Parker Brien. She was also Best Bred By Exhibitor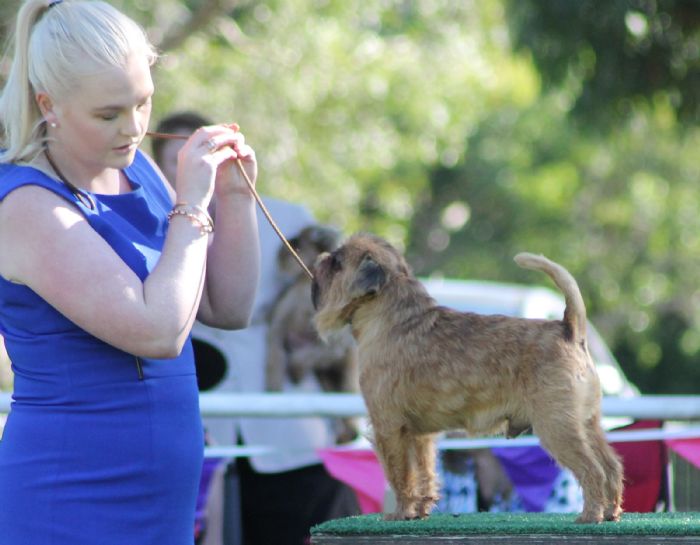 Reserve Dog Challenge was Supreme Ch Tzani Zazu Zodiac, owned and handled by Kerry and Emily Bell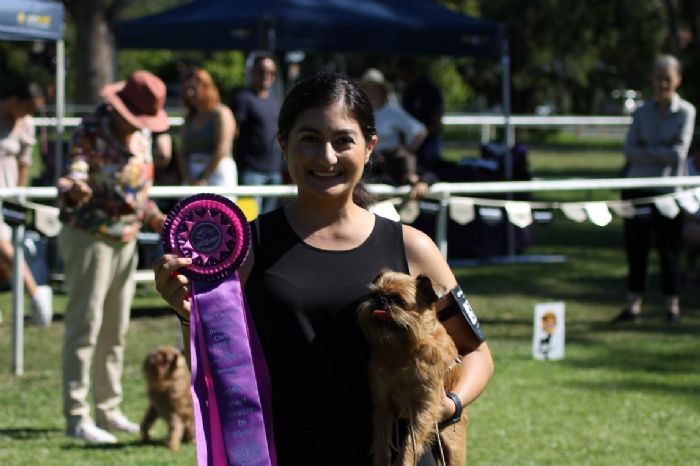 Best Neuter in Show was Neuter Ch Kango Lady Ma Donna, owned and handled by Maroussa Polias
The Gold Show
The Gold Show was judged Mr John Sheppard ( Erintoi Kennels) Mr Sheppard has over 40 years experience with Griffons and is an international all breeds judge.
The show was the Edward Croad Memorial Show and Mrs Jocelyn Croad was the club Guest of Honour, to present the trophy in memory of her husband.
John Sheppard found his winner in the Spanish imported Griffon Bruxellois dog, Ch Los Chatos Del Norte Rasta Man, owned by Ven Grasso. He was also Dog Challenge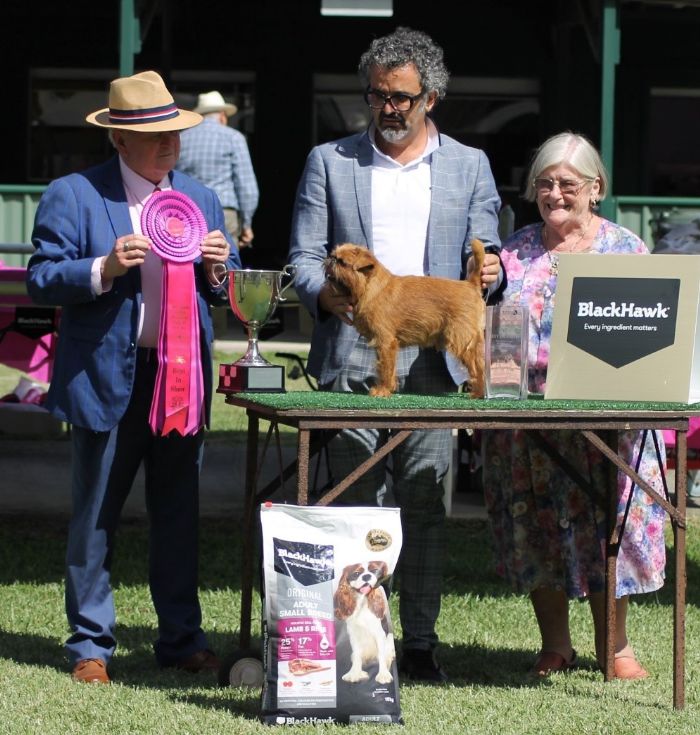 Best in Show, Ch Los Chatos Del Norte Rasta Man with Judge, John Sheppard, owner, Ven Grasso and Jocelyn Croad presenting the memorial trophy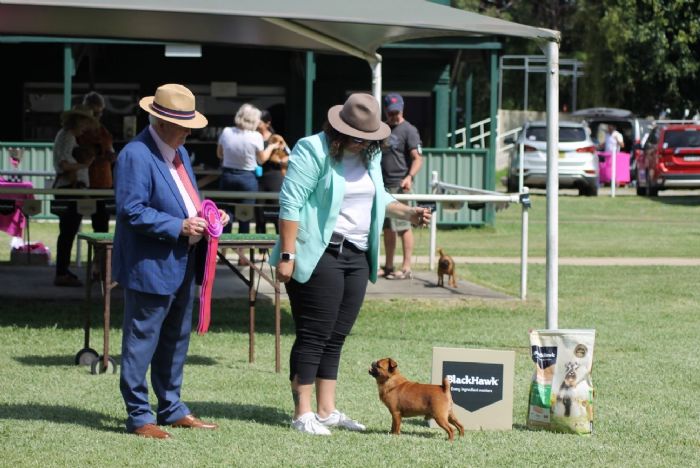 Reserve in Show and also Reserve Challenge Dog was once again Supreme Ch Cricklewood Night of Magic in Paris, handled by Ashleigh Barber and owned by Ashleigh Barber and Michelle Parker Brien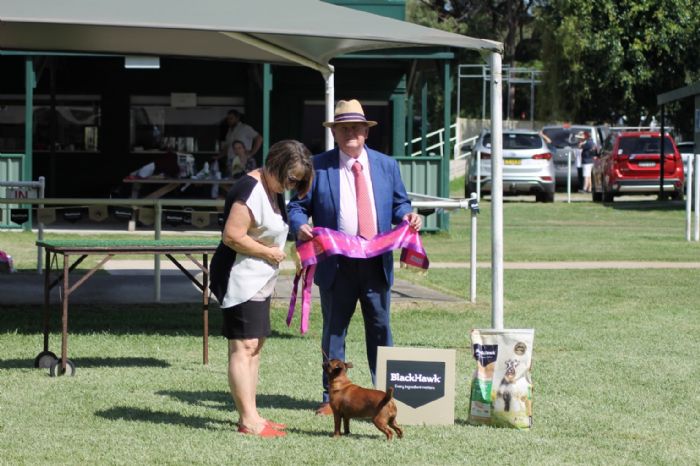 Bitch Challenge was Ch Balliol Tilly Tonks of Raweke, owned and handled by Michelle Parker Brien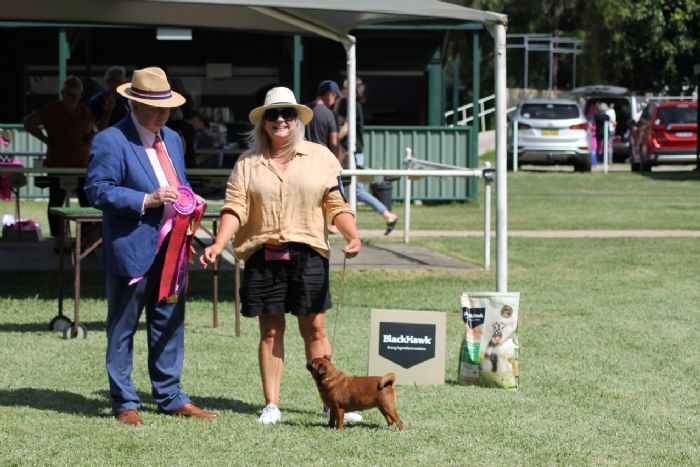 Reserve Bitch Challenge was Nagpuni Midnight in the Oasis, bred by Terri Odell and owned by Terri and Nicola McLean. Handled by Nicola McLean
Neuter in Show was Neuter Ch Bonzabull Squirrel Nutkin, owned by Claire Parker OSullivan and Matt OSullivan and handled by Matt